What's Sobu main line and Narita line, Kashima line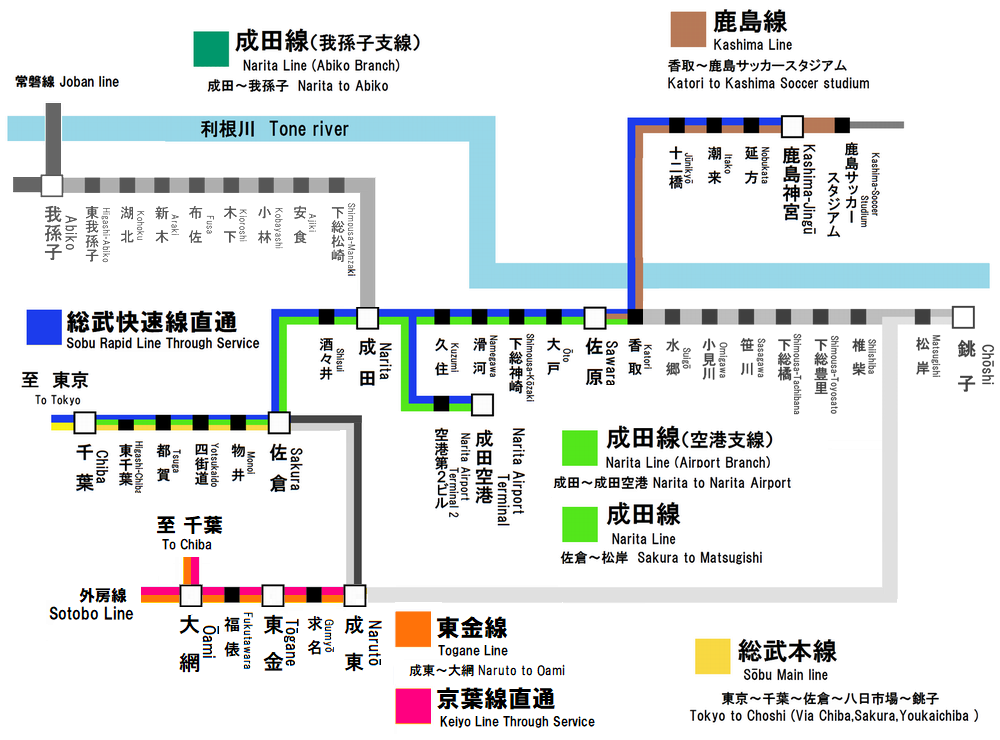 The "Sobu main line"(Soubu Hon-sen) is a railway that connects Tokyo to Choshi via Chiba station, Sakura station, Yachimata station, and Naruto station.

"Sobu main line" is most old railway in Chiba prefecture.
This route opend from Ichikawa to Sakura in December 1894 by "Sobu railway company" at that time.

The "Narita line"(Narita-sen) is a railway that connects Sakura station to Matsugishi station via Namegawa station, Sawara station(Main line).
Another Narita line have 2 branch route Narita station to Abiko station(Abiko Branch), Narita station to Narita Airport station(Airport Branch).

The Narita line starts in 1897 when the then "Narita railway company" opened a railway from Sakura to Narita, connected to "Sobu Railway". The purpose was mainly as a means of transportation of visitors to Naritasan Shinshoji Temple. After that, from Narita to Sawara it has been stretched sequentially by 1900, and the "Abiko branch line" to Abiko also opened at the same time.

In 1907 "Sobu Railway" and "Narita Railway" were nationalized, then became National Railways "Sobu Main Line"(Soubu Hon-sen) and "Narita Line"(Narita Sen).
"Narita line" extension from Sawara to Choshi, the fulfilled after becoming a national railway.

"Kashima Line"(Kashima-sen) is a railway linking Kashima-Jingu Sta and Kashima soccer stadium Sta from Katori in Narita Line, and in 1970, it was opened in accordance with the development of Kashima Coastal Industrial Area.
This route is that passes through a water district where many rivers and lakes are dotted.

In 1968 the railway electrification from Chiba to Narita was completed, and contrary to the name of the route from Sakura, Narita direction became main operation line.
The "Narita International Airport" opened in 1978, and the "Narita Line" also became responsible for airport access by connecting with the bus at "Narita station".
And by the privatization of the National Railways in 1987, "Sobu main line" and "narita line", "Kashima line" operation changed to JR East. In 1991 a new route from Narita station to Narita airport opened and Narita Express started operation.

Today, these are operated together, and in addition to the Narita Express and rapid service trains from Tokyo to Narita Airport, limited expless trains connecting Tokyo and Choshi, local trains from Chiba Station, fraight trains to the Kashima coastal industrial area Various trains are being driven such as.
From Kashima Jinguma Sta to Kashima Soccer Stadium Sta is operated only by direct trains of Kashima-rinkai Railway from Mito area, except for freight trains and forwarding trains.